If you are maintaining an AFP/IPDS print environment, ExcelliPrint can save you time and money and help you do more with your AFP data. What can ExcelliPrint® do for you?
Print IBM host IPDS to existing or new Windows-based printer
Save IPDS documents to electronic archives in common formats like PDF, TIFF, and PCL
Reduce processor demand on the host system.
Lower costs and maintenance in your IPDS print environment
Consolidate multiple IPDS printers with minimal server-side modifications
Replace twinax IPDS printers with common, more affordable Desktop, LaserJet, InkJet, and Dot-Matrix printers.
IPDS software, the smart choice over IPDS DIMMs
Reduce processor demand on the host system
Lower costs and maintenance in your IPDS print environment
Consolidate multiple IPDS printers without server-side modifications
ExcelliPrint supports applying PC Graphical Overlays / Watermarks to IPDS spool files in PDF Format
ExcelliPrint offers unique options for managing IPDS print jobs, options that bring your AFP documents to the Windows environment
ExcelliPrint is the trusted IPDS Printer Windows Software solution worldwide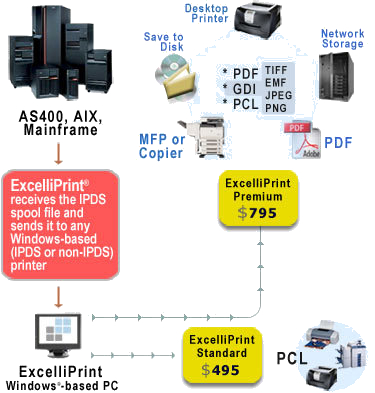 ExcelliPrint preserves the advantages of IPDS, including two-way communication and complex printing abilities, but frees the user from purchasing and maintaining costly IPDS printing environments. With print-to-file and Windows printer capabilities, ExcelliPrint bridges the gap between advanced printing and output device choice.
ExcelliPrint, running on a Windows-based PC, replaces any IPDS printer: it receives and processes IPDS print requests generated on iSeries and zSeries computers, which see ExcelliPrint as a high-end IPDS printer. After receiving the data over a TCP/IP network, ExcelliPrint converts and saves the data in a variety of standard formats or more commonly, prints the documents to non-IPDS, Windows-based printers.
So whether you want to lower your print center costs by using your existing Windows-based printers, or you want to archive or electronically distribute IPDS print jobs, ExcelliPrint helps you do more with your IPDS data.
Two Versions of ExcelliPrint: Premium & Standard
There are two versions of ExcelliPrint: Premium and Standard. ExcelliPrint Standard allows you to print IPDS documents on PCL printers, replacing DIMMs and SIMMs. ExcelliPrint Premium adds the ability to save documents to disc in various formats and provides built-in iSeries device and spool file management. Premium also gives you access to the Window print driver (GDI) to format your IPDS print jobs for your printer.
Learn More: Download the ExcelliPrint trial software to find out what ExcelliPrint can do for you. And be sure to contact our knowledgeable technical support staff for complimentary pre-sales support.