"Our customers are loyal by nature. From their initial contact, they discover
RPM Remote Print Manager
® and
INTELLIscribe
® software can resolve printing issues they were not even aware they had," said Dave Brooks, president of Brooks Internet Software. "We have listened to our customers, learned what features we could add to make our software better, and build our new release accordingly. Our remote printing software upgrades truly are customer-driven!"
Brooks develops network & remote printing software making it easy to install printer on a remote machine. Our software allows you to share a printer over a remote desktop connection, local and remote printer control, broadcast print, and much more.
RPM Remote Print Manager® ("RPM") allows natural remote print capture features with three flexible remote print queue options. INTELLIscribe® boosts LPR remote printing capabilities to ALL Windows® platforms.

INTELLIscribe LPR Client is a robust Windows LPR print client supporting remote printing to a remote print server with various destination behaviors.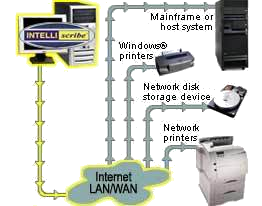 RPM Remote Print Manager is an intelligent Windows LPD print server. RPM supports remote printing from a system that supports a TCP/IP print client to a Windows print device.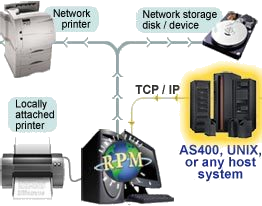 ---
RPM and INTELLIscribe have been tested with mainframe printing systems including IP PrintWay, VPS and Solve:EPS on MVS and OS/390; AS/400; UNIX platforms such as Ubuntu and Debian; and PC print clients including INTELLIscribe and the Microsoft LPR.