Granting "Logon as a batch job"
Submitted by

Dave Brooks

on Tue, 06/18/2019 - 17:35
Q: How do I grant the Logon as a batch job privilege to my user account?
This recent blog post has screenshots and instructions geared for Windows 10 users.
Setting up 'Logon as Batch Job'
Answer: On Windows 7, you grant this privilege through the Local or Domain Security Policy. Using the Local Security Policy, follow these steps.
In the Control Panel, open Administrative Tools, then Local Security Policy.
Beneath Security Settings, open Local Policies, and highlight User Rights Assignment.
Locate Log on as a batch job. Open the properties and add any users that need this right.
When finished, save your changes and close the Local Security Settings window.
Your changes should take effect immediately. To make changes to the Domain Security Policy, on a domain controller, use the Domain Security Policy utility in the Control Panel.
Why RPM Remote Print Manager needs "Logon as Batch Job"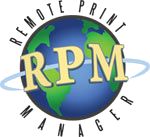 RPM Remote Print Manager® is print server software and a virtual printer with the ability to process print jobs as a specific Windows user. As you well know, sometimes the permissions make this necessary; for instance, if you want to
write to a shared folder
print a shared printer
run a program interactively.
We are pleased to make this page available to you. Helping our users is what makes us all successful, and we're happy to share the information with the community.
If you need a print server or virtual printer, please download the free trial today! And best of luck with your "logon as batch" issues from here on out.