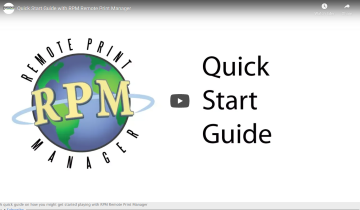 The "Quick Start Guide with RPM Remote Print Manager" video demonstrates how you can get started using RPM Remote Print Manager® (RPM).
Print to RPM
We demonstrate how to direct print traffic into RPM. If you need to see how to set up a Windows printer to print directly to RPM, this video explains all the steps.
PCL to PDF
One setup which is common for many users is translating PCL to PDF. In this video, we select an HP printer that provides PCL6. We use the Windows Print Test Page function to generate a sample printout. We also demonstrate how to specify the current date in the filename. Finally, we show how to setup the PCL to PDF function in RPM and how to archive the PDF print job to your hard drive. We also mention options such as printing the PDF, which some printers support, or emailing.
If you are not familiar with RPM and would like a brief guide to help you configure with confidence, this video will be a good resource.
Availability
You can find all our videos in our Video portal.