Summary
A hospital information system provider needed to create labels using data from AS/400®, healthcare applications. With RPM Remote Print Manager® and Dymo® label printers, the solution is inexpensive, flexible, and low maintenance.
Topics
Customer
Anonymous Hospital Information System Provider
Product
Date April 5, 2006
Background
A major challenge for healthcare IT executives is that much of the data they need to print labels for positive patient ID, charts, pharmacy, and other documents are stored in AS/400®, and mainframe host systems running critical hospital applications. Traditionally, unlocking this host system data and making it available for printing on less expensive, widely available Windows®-based resources has involved major reprogramming on the host side and significant investments in hardware, software, and other resources.
Business Need
With on-demand label printing becoming more affordable and more important in healthcare facilities, the provider needed a way for large hospitals to print labels using data from AS/400 healthcare applications to inexpensive Windows-based label printers with little or no modification to the AS/400 host system.
Solution: RPM and Dymo Label Printers
The company's network administrators use RPM Remote Print Manager®(RPM) to simplify label printing from the host systems at hospital facilities. The AS/400s simply send the necessary print data to RPM, which receives the data for various label types and transforms it in preparation for printing (see the column for transformation details): RPM adjusts fonts, margins, and other attributes based on the settings defined for each RPM queue.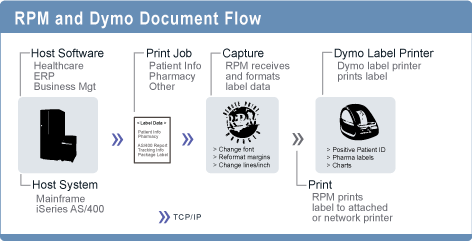 A network administrator at the company believes Windows-based printers are easier to use and manage, especially when coupled with RPM. RPM can isolate the printing process from the AS/400, eliminating some of the headaches involved with native AS/400 printing.
For printing the labels, the company uses Dymo thermal label printers. One end-user describes the printers as virtually maintenance-free and very affordable, costing far less than comparable printers. With RPM acting as the bridge between the AS/400 data and the Windows-based Dymo printers, there is no need for specialized printer drivers or other modules, saving both time and money and simplifying the host print process.
Result
Label printing in hospital environments has been simplified and improved in the following ways:
Network administrators are able to set up new Windows-based host data label printers with little or no change to the AS/400 host system (beyond creating or redirecting OUTQs to RPM)
The RPM + Dymo combination is much less expensive than comparable solutions and is virtually maintenance-free
RPM working in combination with Dymo thermal printers has created an affordable, reliable, and flexible host label printing solution
RPM and the Healthcare Industry
Solaris: A medical group in Oregon uses RPM to receive print jobs from a medical billing application running on Solaris. RPM does a better job of printing and formatting the documents than Solaris does.
AIX®: A Kansas-based, not-for-profit healthcare system uses RPM to capture radiology reports from AIX. The reports are then bundled and encrypted, and sent over a secure line.
One of the largest medical centers in New England uses RPM with Eclipsys' Sunrise Clinical Manager™. The application runs patient care reports every hour and prints them to RPM, which in turn saves the reports to file on a server running Windows 2003. RPM stores the reports for backup so the patient information can be accessed if the main Eclipsys application is not available e.g., if the network is down, the system has crashed, etc.).