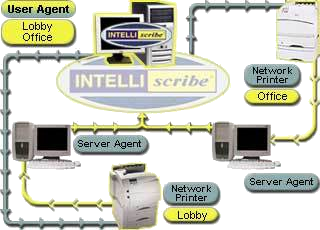 What is SLP? The Service Location Protocol (SLP) is an IETF standard protocol that allows applications the ability to discover the existence of services, such as printers, on a network. Use SLP to find the location and configuration of services, to reduce the amount of technical knowledge and training required for end-users. Each computer on a network traditionally requires manual configuration when services are added, removed, or modified.
The use of an "Agent"
A minimum SLP implementation requires a client or a "User Agent", and a server which is a "Service Agent". The Service Agent broadcasts the existence, configuration, and location of a particular service. The User Agent requests information from the Service Agent, or if implemented, a Directory Agent. A Directory Agent acts as a centralized repository for service location information.
INTELLIscribe is a User Agent. Information about printers that support the LPR/LPD protocol is located and a destination is added automatically with the information found. When a printer is removed from a Service or Directory Agent's configuration, INTELLIscribe automatically removes the destination. SLP is described in more detail in the Request For Comments (RFC) listed below.
Request For Comments