Newsrooms are using the broadcast printing function in INTELLIscribe alongside their newsroom systems (iNEWS and others) to easily print scripts simultaneously to multiple network printers. In many cases, these printers are loaded with specific colored stock for different people. INTELLIscribe's Shared Printing feature allows many network users in the newsroom access to INTELLIscribe's broadcast printing.
With INTELLIscribe, script printing and distribution are simple and inexpensive. Newsrooms and broadcast companies can install INTELLIscribe and immediately simplify the script printing process. Below you will find two examples of how they are utilizing INTELLIscribe.
Newscast Scripts Sent to Multiple Printers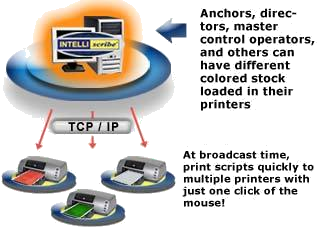 Newscast scripts can be sent easily to multiple printers at once. The scripts are collated and can be printed on less costly network printers. INTELLIscribe's broadcast printing feature allows a job to be printed once, and then a copy of the job is sent to any number of predetermined network printers. When it's time to print last-minute scripts, INTELLIscribe makes the job quick and easy.
Improvements
In one newsroom environment, INTELLIscribe replaced a number of serial print servers and serial data broadcast boxes; these had been used to distribute print jobs to multiple printers, the function that INTELLIscribe now handles.
Scripts are printed on common network printers.
Read the full case study on how major news broadcaster leverages INTELLIscribe's broadcast printing for iNEWS scripts.
Improve Speed and Efficiency of Last-minute Script Printing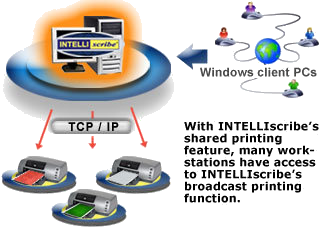 In another newsroom environment, users can print to one virtual "script printer" and have the script broadcast to multiple printers, after installing INTELLIscribe. Depending on who the script is intended for, some of the printers are now dedicated to printing on the specific color stock required for different people (for example, darker, non-reflective stock for anchors, red for directors, and so on).
Scripts are printed once and are automatically sent to the correct destination, and the scripts are printed on the correct type of stock for each person. Manually feeding different stock into printers is now a thing of the past, allowing users to concentrate on more important tasks.
Improvements
Scripts printed once are automatically sent to multiple printers, improving both efficiency and speed.
Specific printers are now dedicated to printing scripts on certain colors and types of stock, eliminating the need to manually feed different stock into the printer.
Read the full case study on how newsrooms print last-minute scripts efficiently to multiple printers.

Media General
Media General Improves Speed and Efficiency of Last-minute Script Printing
Other Links