The first video posted on bi-directional printing
Submitted by

Dave Brooks

on Mon, 12/09/2019 - 13:25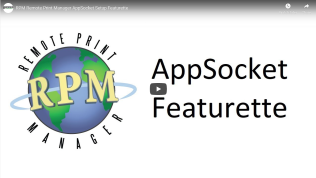 We recently posted a video on our new bi-directional printing module. Bi-directional printing also goes by the names JetDirect or AppSocket, so we went with the latter to avoid possible confusion or conflict with the printer name.
We have already been able to help several customers whose environment uses this method of printing. Any application that prints to a JetDirect compatible printer may be a candidate for our bi-directional printing support. For instance, we learned there is a widely used dealership management system that uses bi-directional printing.
This video walks you through the steps of setting up bi-directional printing with our RPM Remote Print Manager® print server product. The steps are few, and as you can see, the results are nearly immediate.
You can watch the video, download a free 21-day trial or contact us to talk about your situation.