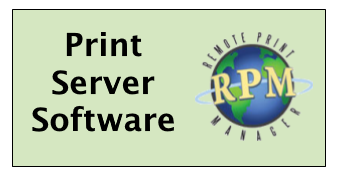 Manage your printers, print server(s), and deploy shared printing software download to any device and more from one place. Brooksnet is a print server software company that helps businesses remove the pain of print management. Easily print from any location of preference, customize usage parameters, and set permissions with RPM Remote Print Manager® (RPM). RPM is the print server software for Windows that offers tons of printing server capabilities to improve workflow and reduce administrative costs.
RPM + Print Server Integration = Pain-free Printing
Traditional printing management is a painful experience for many IT professionals and an added expense to doing business. There is just too much to configure, deploy, and manage, which opens up too many opportunities for things to go wrong or break.
You will often run into issues seemingly out of your control when working with several print servers. You might run into problems such as spooling debacles, strange driver errors, permissions issues, printer deployment errors, etc.
All of that increases the overall infrastructure budget for organizations, which won't make any executive happy.
Print Server Software That Cuts Down Cost
One of the primary reasons IT professionals remain employed is their ability to manage and reduce costs by improving a company's overall efficiency. RPM provides a plethora of printing server solutions that can help any company reduce administrative costs.
Even if you tried centralizing your print servers at critical locations to shrink infrastructure spending, RPM is still the best solution. You still have other things to contend with when centralizing printing servers.
For example, you create a single failure point when you centralize your print server. That means if your hardware fails at a primary location, the entire section it handles will be unable to print. Not good.
Printing network software like RPM eliminates all of the hassles mentioned above and reduces your overall infrastructure cost.
It is Time to Improve Your Work Life
RPM streamlines your entire workflow while giving you the same and more control, including ease of use than any other print server software. Brooksnet built RPM to help busy enterprises simplify the management of their print server or print infrastructure. RPM print server software reduces the time it takes to get things done and eliminates the frustrations involved with print management.
With RPM, you can focus more time on running your business instead of managing a fleet of printers.
Assess/Measure With RPM Print Server Software
In business, you can't set plans in motion to address specific needs if things can't be measured. Printing software solutions offer assessable insights that can be used to optimize workflows, audit your printers or devices, and analyze print volume to maintain optimum efficiency. Organizations can gain greater insight into things like print spending and use that info to manage costs better.
Manage Everything With RPM Printing Network Software
RPM is an invaluable tool that assists with the daily oversight of your printing server, devices, and overall environment. Things like automatically controlling the print queue to keep jobs flowing, maintenance, and update alerts, including troubleshooting support.
Streamline Your Workflow With RPM
Our print server software can automate repetitive or mundane tasks (paper-based and digital/electronic). Staff will be able to perform their work more efficiently and with fewer errors, which improves productivity. Plus, increased production means more revenue for your company.
Why RPM is Right For You
RPM helps you manage your printing infrastructure and supports over 1000 printers or print servers. Plus, you can specify how many print jobs each printer can receive at the same time. Also, RPM will automatically pause jobs whenever a printer goes offline until it recovers.
RPM supports LPD (Line Printer Daemon), telnet protocols (or port 9100), and AppSocket or JetDirect (also on port 9100). That simply means our print server software will support practically every kind of network setup, even the more complex ones.
Never worry about compatibility issues again when you partner with Brooksnet. RPM can act as a bridge for systems that can't communicate with each other.
Customize your print workflow to be just the way you want it. Our team can develop additional software that adds extra capabilities to RPM to suit your needs.
RPM Saves Your Business Money
Imagine the added administrative cost you are probably paying because of inefficient print management. Not to mention the downright wasteful spending that is most likely happening throughout your organization.
RPM is your ticket to affordable and hassle-free print management. From printers to print servers to drivers to deployed group policies, handle them all, and more with RPM from one place. Say goodbye to ever needing to log onto every machine to make updates or perform routine maintenance.
Many of Our Customers Trust RPM As Their Print Server Software (For 20+ Years)
Collect real-time data on printer usage to help you make informed decisions.
Enjoy excellent network connectivity and support for virtual printers.
Convert raw data such as PDF, PCL, TIFF, PostScript, and other file types into readable formats.
RPM supports dynamic routing based on print job data. That means your routers automatically select paths for print jobs instead of a system admin doing it manually.
Add identifiable information to data such as archiving print jobs using invoice numbers followed by dates. Maybe even adding a watermark to fax documents.
Our print server software has a very easy-to-use interface that helps staff do their jobs more efficiently.
Now you and your staff can spend more time on core business objectives.
Contact us now for more info or get your free trial copy today!