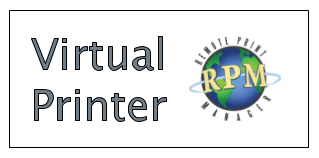 According to Wikipedia, a virtual printer is a software program that resembles a printer. The difference is that you do not need to connect a virtual printer to a print driver, so you do not need to target a specific printer when you create the job.
RPM Remote Print Manger® ("RPM") is a virtual printer. Our customers often use it in place of a regular printer to perform additional tasks on print jobs. Once these tasks are complete, customers can configure RPM to print to the original printer. Or, they eliminate the printer in some cases.
You can find examples of this running today in medical facilities around the US. In these cases, the medical practice software forbids printing outside the network to enforce patient confidentiality. However, our integration partners set up RPM to look exactly like your local printer inside your network. The existing medical practice software prints to RPM, secure in the knowledge that the documents are safe. Simultaneously, RPM submits the print jobs to the software system recently installed by the integrators.
Our goal in developing RPM is this:
It's your data; what do you want to do with it?
What can you do with a virtual printer?
RPM allows for many use cases. Here are a few of the more common ones:
we can send your print job directly to one or more printers
we can intercept the print job, let you define the fonts and spacing, even automatically rotate and optimize, and still print to one or more printers
we convert a variety of formats to PDF
archive to disk, attach to an email
RPM can upload to an FTP server; we have partnered with high-end printer vendors in this way before
we can even run your custom program
Direct (or raw) printing Text printing Multiple printers Converting to PDF Archive Email FTP Custom program
One of our reseller partners uses the custom program method to analyze the print job and insert it into a database. Nearly anything is possible when you build on the practicalities.
As a more general case, many of our customers run programs like GhostScript to convert PostScript into other forms or send it to a local printer that otherwise is not PostScript capable.
How to print to a virtual printer
Printing to a virtual printer is not supposed to be different than printing to a regular hardware printer.
We provide instructions if you use a system like an AS/400 or Linux workstation. Essentially it's a printer on your network. Special care is usually not required.
We support printing from mainframes, and many customers do, but we lack detailed instructions for many mainframe platforms. If you can set up a print job to go to an HP printer, you can do the same with RPM.
For Windows platforms, we provide instructions on setting up a printer port and directing that traffic to RPM. It can be on your local system or another PC in your network.
We also have an optional folder watcher so RPM can capture files moved to a directory on your system.
It's time to Go Virtual!
If this seems like it would be helpful to you, we suggest that you download RPM and then schedule some time with our tech support to see how you could use virtual printing capabilities in your organization!