Windows print server with no special hardware
Submitted by

Dave Brooks

on Tue, 05/15/2012 - 15:27
The Print Server Made for Windows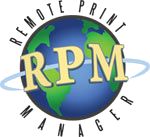 RPM Remote Print Manager® (RPM) is print server software for Windows platforms. It makes full use of your Windows system and has many capabilities beyond traditional printing--though we support that as well.
Print like any Windows application
Many of our customers want to send their Linux or mainframe jobs to their Windows printers. As a virtual print server, RPM supports the printing process that every other Windows application uses:
you select a printer
you customize with your print options, such as double-sided or number of copies
save your print settings
Then when RPM processes your print jobs, it uses the printer settings you specified.
Please see our Windows print overview or our step by step instructions for setting RPM up to print from your Linux or mainframe system.
Or, bypass Windows and go direct to the printer
You can also print directly to the printer, bypassing the Windows print system. This requires you to have the right codes for your printer, naturally. RPM can generate PCL for many printers, depending on the inputs.
Common reasons for doing this include:
Please see our step by step instructions for printing your remote print jobs directly to the printer (or printers).
We support local and shared printers
RPM allows you to use shared devices on your network, including both printers and folders. We support domain users, so it doesn't even have to be a local user.
Please review our instructions on making use of your login credentials to print to shared printers, and archive to shared folders.
Archive to any file system
We file your print jobs on your hard drive, in the folder of your choosing, with the unique name you ask for. We also support shared folders, the same way we do shared printers.
Our file archive processing includes:
selecting a folder
naming the file using current print job data
how to save multiple print jobs to a single file, dynamically named
Send your print job as an email
We can email your print jobs. We can either use your local email server, or we can connect to the remote users email server. Use the method that works best for you. We also notify you via email when needed.
Please see how an emergency response unit sends dispatches directly to smart phones using RPM's email capabilities.
We also explain more conventional uses for email, such as sending a print job as an attachment.
Download today!