Press Release
for Immediate Release
ExcelliPrint 3.0 Release: Improved IPDS to Windows Printing

Idaho Falls, ID - March 14, 2006 - Brooks Internet Software, Inc. has released ExcelliPrint® 3.0 with updates and enhancements to improve IPDS-to-Windows printing. ExcelliPrint is an IPDS print server for Windows 2000, XP, and Server 2003 platforms that allow any Windows-based printer to be used for IPDS printing. ExcelliPrint continues to provide real-world cost savings and benefits in IPDS print environments.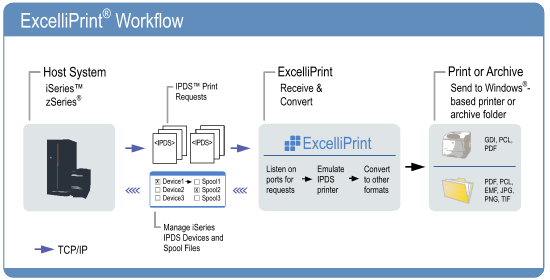 The enhancements, driven by customer feedback and requests, improve ExcelliPrint's overall speed and performance in receiving, converting, and printing IPDS documents. Version 3.0 includes the following enhancements and updates:
ExcelliPrint supports multiple output destinations: You can now replace your existing IPDS printers with lower-cost Windows-based printers. Of course, ExcelliPrint can also save IPDS print jobs to disk in various standard formats, including PDF and TIFF. Whether you are redirecting IPDS documents to printers or folders, ExcelliPrint provides centralized print job management.
Color support and rendering are improved: ExcelliPrint supports FS45 for color JPG images. Various rendering issues have been resolved from previous versions. These improvements ensure output accurately represents the original host documents.
Additional codepages have been added and can be selected by the user: By allowing a default codepage to be selected for each printer, ExcelliPrint enables the printing of host documents in many languages.
Document output when printing and archiving is more efficient: Saving documents to file in EMF, JPG, PNG, and TIFF formats is faster. When printing, the EMF output type allows you to use printer features that may not be supported by the host system and provides faster print times. PDF output file size is smaller with no loss in quality.
ExcelliPrint's browser-based interface has been enhanced: Creating and managing printers in ExcelliPrint has been simplified and other tasks are more intuitive. ExcelliPrint can begin printing and saving IPDS documents within minutes.
A system tray utility provides quick access to advanced settings: You can access advanced settings such as stopping and starting the ExcelliPrint service, changing the interface's port number and enabling secure access to the interface through SSL. The tray icon also indicates the status of the ExcelliPrint service.
ExcelliPrint can move iSeries spool files between IPDS devices: In addition to holding and releasing iSeries spool files, you can now move spool files from one IPDS device to another, all within ExcelliPrint.
PRICING:
$795.00 Commercial* (Includes TWO output destinations)
$690.00 Government & Education
Contact Brooks for pricing information on licenses with more than two output destinations
(*Volume discounts available)
About Brooks Internet Software, Inc.
Founded in 1995, Brooks develops TCP/IP network printing solutions that allow Windows-based computers to print to and receive data from non-Windows computers: INTELLIscribe® for sending print requests, RPM Remote Print Manager® for receiving host print requests, and ExcelliPrint® for receiving AFP/IPDS print requests from IBM mainframe and midrange servers.
---
IPDS Printing Team
Brooks Internet Software, Inc.