To your IBM system, ExcelliPrint® 4.0.0.110 appears to be a brilliant IPDS printer

ExcelliPrint receives IPDS documents from IBM AS/400 servers and legacy mainframes, then processes in ways that fit with enterprise print environments. You get the full range of IPDS features, in modern data formats, on your Windows system. It provides many conversions and enterprise printing features.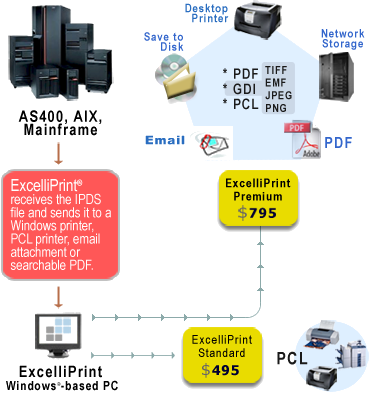 A bridge between legacy systems and Windows platforms
ExcelliPrint includes access for your current processing environment to all your IPDS data. With ExcelliPrint, you can:
print to both Windows printers and high-speed PCL printers
convert to searchable PDF that you can display, index, and pass to document management, ERP, and COLD systems
extract plain text for use with variable data printing systems or conventional data processing
convert to standard Web image formats
convert to TIFF for faxing, publishing, and other applications
print to email--send print jobs via email, automatically
Lower cost per IPDS printer
We price additional printers at a lower cost than the base software license. Purchasing printer modules is the way to add printers without multiplying the price.
Full-featured versus economy
ExcelliPrint Premium is our fully featured product; it does everything shown above for about the cost of a typical IPDS printer. ExcelliPrint Standard supports PCL printers only. Please see our detailed comparison chart.
Product release--ExcelliPrint 4.0 has been released!
ExcelliPrint 4.0 is an upgrade to the previous version, 3.2. Here is a summary of what's new. Both Standard and Premium are available for download.
Getting started
Learning more about ExcelliPrint
Articles about ExcelliPrint