Payment options
We work with a secure payment processor that presents payment options customized to your locale, based on your IP address. They include relevant credit cards, PayPal, and other options. We don't know in advance.
Using RPM Remote Print Manager® ("RPM") as an example, let's walk through the online ordering process.
Pricing
Online, we offer only commercial pricing and single license volume. If you need educational or government pricing or volume discounts, please contact our sales office for a quote. They will assist you in buying online. Instructions to contact us appear below.
Finding the purchase link
On the right column of a page on our site talking about RPM, you may see an information block labeled "RPM version", similar to this:

I've highlighted the Purchase link for clarity in this example.
That link takes you to the purchase page.
You can also find purchase links on the Products page. You'll find this page on the main menu at the top of each page. Just click "Products."
Before you purchase
Again, staying with our example of purchasing RPM, let's take a look at the "Purchase RPM Elite" page. Near the middle of the page, you'll find this: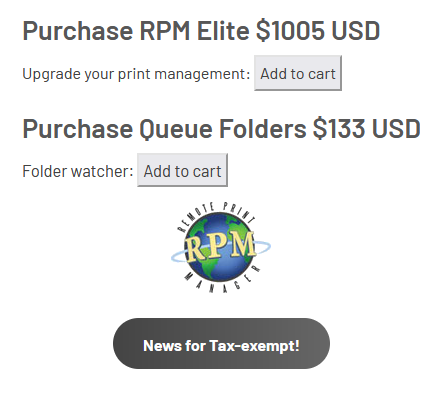 The "Add to Cart" buttons are typical. I'm sure you don't need a tutorial for that!
Please note: if you require more than one license, please ask us for a quote, as we can sometimes offer a discount on multiple licenses purchased together.
Finally, I want to draw your attention to the link I've highlighted. If you are with a qualifying organization, please click that link before ordering. It will save you time and possibly a little frustration.
After you purchase
We have configured the storefront to require your email address. The reason for this is to send you license activation codes and instructions.
If you need help
Please call our office at 208-523-6970 or reach out using our contact form. Be sure to specify "Sales" for your message recipient.