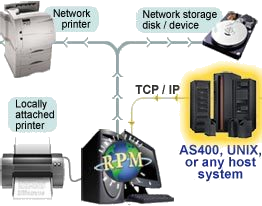 Telnet and JetDirect Printing
Telnet & JetDirect® printing with RPM Remote Print Manager® (RPM) supports receiving jobs via the Telnet printing protocol, also known as "stream printing" or "reverse telnet." Many older or proprietary network operating systems may not support the LPR/LPD protocol for printing over a TCP/IP network.
RPM Removes PCL Codes
RPM will remove PCL codes automatically, with no need to reconfigure the application. The ability to customize and control the processing of print jobs over a TCP/IP network is what sets RPM apart from any other print server. RPM will format ANY text file and print to ANY Windows printer, regardless of paper size, tray selection, # of copies, or paper orientation.

Why Use the Telnet Protocol and RPM to Print?
Reasons for using RPM's Telnet printing in RPM may vary, so here are 2 sample uses for it.
OS/390 mainframes from IBM do not support LPR/LPD printing natively. In order to print from these systems, you must purchase expensive applications such as IP Printway from IBM. We have heard that the OS/390 does support Telnet printing, making RPM very useful in eliminating the need for these expensive applications.

Hewlett Packard's HP3000 can be configured to print directly to HP network printers using the JetDirect protocol. This protocol is very similar to Telnet printing, and RPM can be used to receive these print jobs and print them to any Windows printer. Typically you would need a third-party LPR client for HP3000 printing, which may be reasonably priced. Still, these applications have been reported to cause serious performance issues with this operating system.
Advantages in Telnet Printing Using RPM
INTELLIscribe
can now print on any port number using the LPR/LPD or JetDirect protocols. This allows JetDirect boxes to be used, even ones with multiple ports. The port monitor has been completely rewritten and greatly improves performance.
You can configure an unlimited number of Telnet ports to monitor print jobs, thereby submitting jobs to any RPM print queue. Each RPM queue can be configured differently; for example, one queue can be configured for printing landscape jobs and another queue for printing portrait jobs. You can also configure paper sizes, such as for printing checks and other forms.
Specifying the User ID, Job name, and Title
Choose whether or not to print a banner page
Specify columns-per-line if the data is text
Specify the number of copies to print for each job
Choose to print even before the whole job has been received
Choose how many pages to receive before printing starts
RPM can be useful with many Telnet issues: "telnet change printer IP", "reverse telnet troubleshooting", "hp printer telnet", "telnet commands for printers", "print to local printer on telnet" are just a few of the questions we receive and may be able to assist you with. Please contact our technical support with your questions, and they'll be happy to help out.