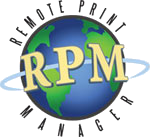 RPM Remote Print Manager® (RPM) is not only a print server. In its capacity as a virtual printer, RPM connects a variety of other software systems running on Windows and other platforms.
Many of our customers and partners use RPM as a virtual printer to bridge between systems. They have provided narratives that we will refer to.
Medical records
Sharecare installs RPM on customer systems with medical records systems already in place. The customer's current system prints to RPM as if it were a regular printer and RPM submits it to the Sharecare system. This is all done with off-the-shelf RPM functionality. Sharecare says that some systems prevent printing to electronic files, and they overcome this limitation with RPM.
Credit union customer records
We have several examples in the credit union system. At the Connect Credit Union, the Fiserv system prints a customer record to a teller's printer, although this printer happens to be RPM. RPM then makes the customer record available to the receipt management software system. The receipt management system meets all federal and state requirements and is said to be a key investment for the credit union. Using RPM as a connectivity piece lets them put priority on the rest of the system.
Electronic signature capture for loan documents
Another credit union example illustrates a different purpose. At Voyage Federal Credit Union the Fiserv accounting system generates loan documents and "prints" them to RPM. RPM then translates these documents to PDF and submits them to a customer signature system. The documents immediately appear for review and signature on the customer's laptop or iPad. RPM provides an important connectivity piece between two major systems.
Federal agency streamlines printing
A federal law enforcement agency prints to RPM from their mainframe system. They have configured RPM to convert their print jobs to PDF. This alone saves them the expense of printing and scanning, not to mention the fees involved in a PDF system on the host computer. They have also set up RPM to send the documents as an email to the departments and individuals who will need them. The agency praises RPM for being easy to use and saving taxpayer dollars. They are the first customers I remember who referred to RPM as a "virtual printer". Soon that caught on in the company as well.
GPS-based delivery system uses RPM to connect
ADC provides a system called Elite EXTRA which supports drivers making pickups or deliveries of auto parts. This system was designed to work with auto dealer management software platforms. Often they have a direct integration, but in some instances they use RPM. One of our partner companies, ITG, provided a secure interface to import an invoice or work order. ITG configures RPM to print the work order to a local printer and uses the ITG solution to inject the work order into RPM. ADC adds " This is a very non-invasive way of capturing orders". We have an article on ADC and another article on how we worked out the integration issues.
How to make the connection
Contact our pre-sales technical support today! None of our staff are script readers; they are all experts and enjoy an open collaboration with each other. Many of our tech staff are also developers.