What is RPM, anyway?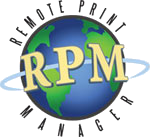 RPM is our software print server. Normally you find a print server in a printer or it might come in a box. You can configure them to do a variety of printing tasks; we have a number of them in the company. They work well to provide printing support on a printer.
What they don't do, which RPM has always done, makes it easy for you to control the font and format, restrict the range of pages printed, add pages, use all the Windows setup features available on your printer and more.
On top of that, RPM is hardly limited to putting ink on paper. We convert your print job to other formats such as PDF and TIFF to name a few. That puts your document in line for emails, your document management system, signature capture system, to name a few.
One of our integration partners uses RPM to digest an invoice for auto parts and submit it to their GPS based system. They manage the pickup and delivery drivers there and help the dealership or parts store earn more and spend less. RPM can at the same time still generate a hard copy if they need it.
A number of our partners in the health information field use RPM as a virtual printer, taking printouts from systems which won't interface with software. RPM then hands the print off to their proprietary systems.
What is available for you now
You can download the 21 day trial for RPM. We have two editions. RPM Select is great for a desktop or small server environment. It handles a number of tasks very well and supports up to ten devices at a time. It supports 2 concurrent print tasks.
RPM Elite does several things RPM Select does not, including converting PCL to PDF, extract data directly from your print job, and supports conditional routing. It supports up to 99 devices and anywhere up to 256 concurrent print tasks, although we recommend you pick a number closer to the number of CPUs in your system. For instance, mine is a quad core so I'd use 8 print tasks.
Once you have downloaded and installed the software, we have a website full of resources for you. We have tips on accomplishing common tasks. We have setup manuals for a variety of originating systems.
You can contact our office for assistance on nearly any related topic. In fact, I'll make you this offer. If you are interested in talking with us via email or on the phone about what you are trying to accomplish, we are willing to help you walk through the process, or provide you with a working proof of concept. If we need access to your data files we're willing to sign a non-disclosure agreement. If there is programming involved we'll give you a quote. For most situations, RPM will do everything you need out of the box.
Please browse our customization projects. If a need presents itself often enough, we sometimes roll that capability directly into the software. So, check with us; RPM may already do what you have in mind.