Press Release
for Immediate Release
INTELLIscribe (new release v 4.0) Enhances Windows Printing
IDAHO FALLS, March 8, 2007 - Brooks Internet Software, Inc. introduces INTELLIscribe® version 4.0. INTELLIscribe, designed to make document distribution and printer management simple and inexpensive, continues to improve out-of-the-box Windows® printing.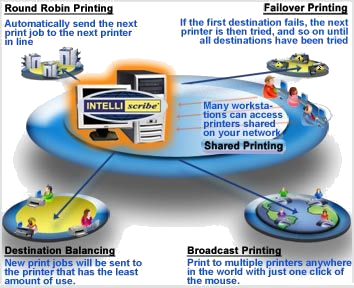 Used frequently in the news media sector, INTELLIscribe is well known for its broadcast print feature, where simultaneous printing of the same document can be achieved on multiple networked printers. This document distribution feature of sending to multiple printers brings to life several configured print destinations at one click of the mouse; the result is an efficient and stable printing solution that meets the requirement of a shared real-time broadcast print environment.
Version 4.0 brings INTELLIscribe's broadcast printing, failover printing, destination balancing, and round-robin printing features to Windows Vista and Windows cluster environments.
A free, easy-to-install 21-day trial of INTELLIscribe is available for download. It is fully supported on Windows 2000, Windows XP, Windows Server 2003 and Windows Vista operating systems.
Tested and Proven Over Time
The INTELLIscribe® product has been tested with many print systems, including AS/400; UNIX platforms such as Linux, Sun Solaris, and SCO UNIX; hardware print servers from Hewlett-Packard Co., Lexmark International, Inc., and many others; and PC print servers including RPM Remote Print Manager®. INTELLIscribe installs on Windows® 2000/XP/2003/Vista. Please feel free to download the free trial!
Brooks Internet Software
Founded in 1995, Brooks develops TCP/IP network printing solutions that allow Windows-based computers to print to and receive data from non-Windows computers: INTELLIscribe® for sending print requests, RPM Remote Print Manager® for receiving host print requests, and ExcelliPrint® for receiving AFP/IPDS print requests from IBM mainframe and midrange servers.