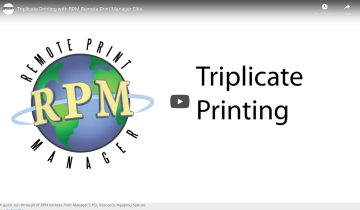 Due to the influx of customers using RPM Remote Print Manager® (RPM) to send print jobs to multiple trays in a given printer, we have produced a video that demonstrates just that.
The title of the video is "Triplicate Printing" to denote the way many of our customers refer to this process. Other names include multiple tray printing, printing on multiple printers, even using different colors of stock.
In this video, we use the example of sending one print job to three specific trays in an HP-compatible printer. We show how this works by using Print Test Page then selecting the tray we wanted to use in the Printer Properties, one at a time. RPM can log the tray ID and this gives us the information needed to set RPM up for production.
We also cover the case where we print to each tray, then forward the job to the next tray. This way the jobs will print in the order you specify, assuming they use different stock in each tray and one output bin.
You can find more videos on our Video portal