INTELLIscribe is an LPR Print Client (Line Printer Request) that provides the ability to spool jobs to any AS/400, UNIX, Windows-based system, or hardware print device without a network server. In addition, system resources on your network server are freed up, allowing your server to concentrate on other tasks. INTELLIscribe is packed with printing features expanding your Windows printing capabilities.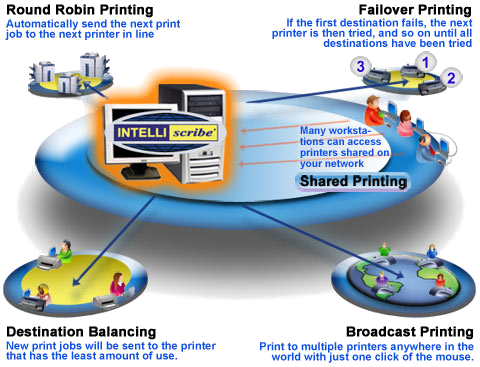 INTELLIscribe is fully integrated with Windows printing; configuration can be done through standard Windows printer setup. INTELLIscribe makes a TCP/IP printer look like a local printer allowing all Windows users to print from Windows to anywhere! INTELLIscribe's user interface lets you know exactly what is going on with your current and past print jobs. INTELLIscribe reduces the cost and aggravation of lost print jobs.
There are very few, if any, LPR print clients with the features you'll find in INTELLIscribe. LPR printing for Windows platforms is now easy with INTELLIscribe. Best of all, you can try INTELLIscribe FREE for 21 days to see if it will work out for you! INTELLIscribe runs on Windows 2000 through 2008 and Windows 7, including XP. We support both 32 and 64 bit platforms.
INTELLIscribe's LPR Printing Features
Broadcast/Multicast Printing: Spool jobs to all destinations associated within the queue.
Advanced User-Interface: Easily view on-screen status information about queues, jobs, and destinations.
Easy Reprint: Reprint jobs without launching the original application.
Setup Replication: Easily create similar configurations on multiple computers.
Simple Configuration: An easy-to-use Wizard guides users through the configuration steps.
Improved Printing Speed: Testing has shown that INTELLIscribe transmits information much faster than before!
Reduce Demand on Servers: INTELLIscribe can spool print jobs, freeing resources on the server.