Improve Host Printing
We are dedicated to being the leader within the internet-based printing solution community by developing and publishing exceptional printing software since 1995. We provide printing solutions for more than half of the countries around the world.
Our primary goal is to create high-quality, cost-effective, easy-to-use TCP/IP network and mainframe - host printing products (LPD Print Server, IPDS Print Server, LPR Print Client) for our customers and to provide the best service and support possible.
Each of our three software solutions will enhance your TCP/IP and network print workflow. Our solutions are software with no additional expensive hardware to purchase. This saves you time, money, and man-hours fixing and maintaining hardware. Our software is updated regularly based on customer feedback for upgrades and enhancements.
ExcelliPrint® IPDS

Print IPDS to Windows printers and assure printouts will be the same regardless of printer. Save IPDS documents to electronic archives in common formats like PDF, TIFF, and PCL.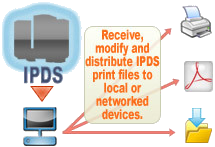 Print IPDS to Windows printers
Assure printouts will be the same regardless of printer
Reduce the processor demand on the host system
Convert print jobs to other formats
Supports multiple output destinations
AFP/IPDS color printing
RPM Remote Print Manager® ("RPM")

Receive spool files from mainframe, midrange, UNIX, Linux, and Windows (or ANY host system), apply special formatting, or custom operations, and print or write to disk.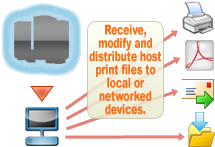 More Info | Try it Free! | Buy Now
Print to file, Print to PDF, Print to HTML
Customize the processing of data
Format files (lines per inch, landscape/portrait)
SCS and EBCDIC to ASCII conversion
Perform data transformations
Print to file document archiving
INTELLIscribe® LPR

Send spool files to ANY IP addressable device (printers, print servers, archival system) anywhere in the world using TCP/IP technology, including Broadcast Printing capabilities.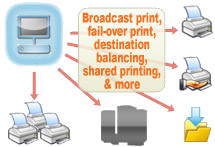 More Info | Try it Free! | Buy Now
Broadcast printing (to multiple printers)
Shared Printing
Print destination balancing
Fail-over printing
Drag-and-drop printing
Round-robin printing