Summary
With RPM Remote Print Manager®, UNIX print jobs have access to the advanced printing functions of Windows®-based printers. Adding and deleting printers in UNIX is much simpler.
Topics
Customer
Product RPM Elite & Select
Date: March 16, 2005
Printable: PDF Version
Business Need
When printing from a UNIX server, The Stewart Organization wanted access to all the printing functions available with Windows-based print drivers (for example, tray selection, duplexing, and collating).
Solution: RPM Select and RPM Elite
The Stewart Organization selected RPM because of its functionality, ease of use, price, and available technical support. With RPM in place, the application on the UNIX platform sends print jobs to RPM which then routes the jobs to different printers on the network.
Outcome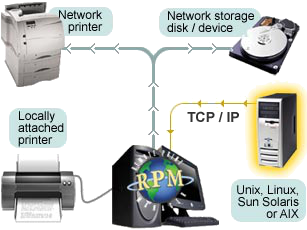 With RPM, The Stewart Organization has experienced the following improvements:
About the Customer
For more than 20 years, The Stewart Organization has been reinventing the business equipment industry, redefining the meaning of service and customer commitment.
As a result, it is one of the largest and fastest-growing office machine companies in the country.
Other Case Studies
Helpful Links