Network print server supports applications, converts to PDF and more
Submitted by

Dave Brooks

on Wed, 05/16/2012 - 14:22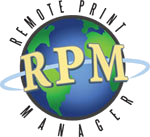 RPM Remote Print Manager® (RPM) is print server software for Windows platforms. RPM has broad capabilities, developed to address a wide variety of printing issues. Many of the ways people have found to use RPM are not obvious from the menu options.
Custom applications
One of our customers in the financial trading world needed to print only when the print job contained certain text; and that had to be immediate. We developed custom software which reviews the print job per his specifications and prints immediately. Otherwise, the print job is archived for further review. This solution has run daily for years.
A hospital customer uses our software for medical information release. In this instance, RPM emulates an HP printer. They use RPM to convert the print job to PDF, then invoke other software to archive to DVD (also done entirely within RPM). Like many others, this solution was developed entirely by the customer.
Creating PDF
RPM can translate most print jobs into PDF. Pretty much any format we can interpret, we can convert to PDF--and we do it internally, not through a free Windows driver.
The Elite version of our software can also translate PCL print jobs to PDF along with image formats and PostScript.
Auto-archive
Archiving to disk is a snap with RPM:
select the folder to save the print job in
select file naming options, including job data, date and time
unique filenames are the default
If you are archiving to a network share, RPM can save the login credentials needed for that operation. No need to change the services user account.
Auto-email
RPM can also send a print job as the body of an email, or as an attachment.
Text or HTML works best as the email body. Any print job can be used as an attachment. PDF attachments are commonly used for this purpose.
Download today!